Des Moines Iron & Supply Company has been selling Helicoid Augers, Sectional Augers and Stainless Augers since the early 1970's.
We have over 500 sizes in stock and are always adding new ones.
When ordering auger flight you must know: O.D., Pitch, Material, RH or LH turn, and I.D. (O.D. – shaft, pipe, and tubing).
Stainless Auger Flights – Helicoid and sectional flighting can be provided in stainless steel material.
We sell 5′ or 10′ sections and offer same day shipping.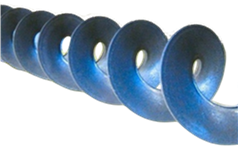 Helicoid Auger Flights
Used in screw conveyors for moving bulk materials.
Flighting is cold rolled into continuous one-piece helicoid screw.
It's smooth, hard surface reduces friction wear and power requirements.
Click here
 

for a list of Auger Flight.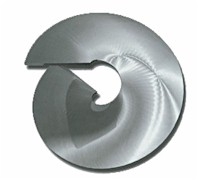 Sectional Auger Flights
For heavier duty requirements on applications requiring a thicker outside diameter flight edge to provide extended wear life.
Sectional flighting is made in full pitch segments to be assembled, welded and mounted.
Click here for a list of Sectional Auger Flight.
Angle Rings
Our angle rings come from several suppliers. An endless variety of diameters are available.
We stock 4″ to 30″ angle rings.
Precision Roll Formed
Mild Steel
Stainless Steel
Butt Welded
Multiple Pierced or Index Punched
Processed to CSA specifications.
Click here for a list of Auger Flight accessories.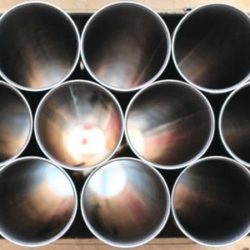 Spouting
We provide Cut to size service!
Our Spouting ranges from 4in OD to 16in OD in several thicknesses, Black and Galvanized.
If you don't see the size you need, give us a call. 800-383-2094
Click here for a list of
Spouting.